Using Kink to Improve Every Aspect of Your Life
Click here or on video to watch now.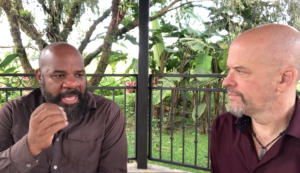 Master Orpheus Black and I hope you've enjoyed this 6-part series as much as we have. And we hope we've done our due diligence to demystify one of the more powerful expressions of sexuality for you.
Through these talks, if you've found that you are the least bit curious about any part of kink, we hope we've created a conversation that will help you navigate it safely and with confidence.
In this last segment, we discuss:
The connection of kink to consciousness
How kink can help serve the dynamics of our interpersonal relationships, enrich and create deeper consciousness around what's unconsciously going on in our lives
What it means, emotionally, to be a submissive
What we have to do to keep the container positive and effective
Why kink can be therapeutic (but is not therapy)
How kink can map onto other aspects of our lives and businesses
Why taking part in the kink scene is an act of faith, not just trust
Other resources where you can get more information about kink so you can have a positive and successful experience
And if you're interested in checking out the resources Orpheus mentions, they are:
"SM 101" by Jay Wiseman
"The Story of O" by Pauline Reage
"Venus in Furs" by Leopold von Sacher-Masoch
Go ahead! Dig in!
We know you'll love today's talk!
If you'd like to check out earlier episodes, you can find them here, here, here, here and here.
Fill your life with kinky pleasure,
Ian

Contact Orpheus at:
theorpheusblack@gmail.com
IG: orpheus.black.12
FB: theOrpheusBlack
Orpheus Black – Southwest M/S Titleholder 2016 & 2015 California's Leather Master/slave titleholder – is a published author and erotic educator, specializing in Esoteric SM, non-monogamous relationships, and erotic meditation. This two-time Bawdy Storytelling champion has been traveling the country teaching his fun and light-hearted educational events for more than two decades.
During this time, Orpheus has become one of California's most respected educators as well as a favorite interviewee and contributor, lending his expertise to shows such as "Playboy TV,s Undercover ", ", "Love, Sex, and Hip Hop", "The Sex Nerd Sandra Show on the Nerdist ","The Dr. Susan Block Show", and "The Inner Circle with Neil Strauss".
Orpheus is also a regular presenter at DomConLA and is the founder of Cirque de Sade—a high profile Dominants group whose mission is to advance the art of BDSM through a commitment to innovation, excellence, and active leadership in the D/s, Ms and fetish communities.