True Dominance Comes From Powerful Presence
Click here or on video to watch now!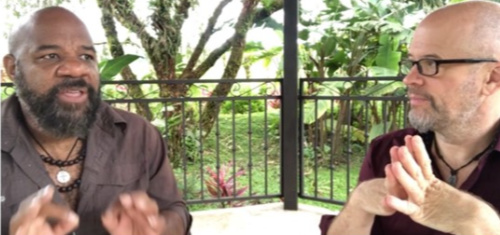 Kink can be a topic that turns people off before they explore what it truly is and the depth of what's possible when using Kink consciously.
In this week's interview, Master Orpheus and I uncover:
What Kink really is (as it may NOT be what you think it is)
How bringing your full presence to your Kinky play is essential and elevates your power as a Dom (remember we said it's not necessarily about pain in

Episode 1: Can Pain Lead You to Deeper Pleasure

)
Why setting up the "Container" for your scene is incredibly important and one powerful component of the container that needs to be in place to create a successful scene
Being able to voice your boundaries, so that you feel completely safe
How kink is about authentic conversations, not pretending to feel your pleasure or play acting at being dominant or submissive
And playing with sexual shamanism during kink
This interview will deepen your understanding of Kink, whether you're a pro or a complete newbie…
Give a listen and demystify the Kink experience.
We think you'll be surprised.
Ian
p.s. What if you're Energetic, but have an urge to taste the Kinky Blueprint in a safe space?
We have good news, you have a playground to see what all the blueprints erotically experience, so you can not only become a better lover but get your lovers to serve you better.

Pre-Early Bird Tickets just sold out. So the $497 investment is now $697 for just two more weeks.
_____________________________________________________
Orpheus Black – Southwest M/s Titleholder 2016 & 2015 California's Leather Master/slave titleholder – is a published author and erotic educator, specializing in Esoteric SM, non-monogamous relationships, and erotic meditation. This two-time Bawdy Story telling champion has been traveling the country teaching his fun and light-hearted educational events for more than a two decades.
During this time, Orpheus has become one of California's most respected educators as well as a favorite interviewee and contributor, lending his expertise to shows such as "Playboy TV,s Undercover ", ", "Love, Sex, and Hip Hop", "The Sex Nerd Sandra Show on the Nerdist ","The Dr. Susan Block Show", and "The Inner Circle with Neil Strauss".
Orpheus is also a regular presenter at DomConLA and is the founder of Cirque de Sade—a high profile Dominants group whose mission is to advance the art of BDSM through a commitment to innovation, excellence, and active leadership in the D/s, Ms and fetish communities.
Contact Orpheus at:
theorpheusblack@gmail.com
IG: orpheus.black.12
FB: theOrpheusBlack