The Secret Ingredient of Hot and Safe Kink Scenes
Click here or on video to watch now.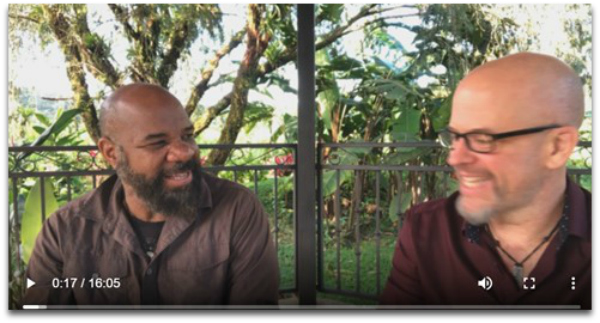 Safely serving everyone's desires who will participate in a kink scene is as easy as setting up the container properly before starting. But skipping this step can end in a scene that is unsatisfying and potentially dangerous.
In part 4 of this 6-part series to Demystify Kink, Master Orpheus Black and I explore what it means to "set up the container" and how this is the foundation of a satisfying and successful kink scene.
In our 16-minute conversation, you'll learn:
How to unleash yourself and those participating with you by setting up the container boundaries (what starts it and what stops it, as well as tools, etc)
What components cannot be ignored for safety, and safety is paramount
How to ask questions so you're never surprised by what's coming (In our experiments, Jaiya and I had an experience where we didn't know what to ask and what we got was a dangerous outcome!)
How to negotiate a scene that you may not realize is part of your fantasies
How to navigate aftercare so that everyone can safely return to their lives
Kink can be as spiritual as it is physical or psychological and when you're able to set up the container the way Master Orpheus Black and I discuss here, you're able to set up an experience that unlocks the gates to wild surrender and otherworldly pleasure.
Fill your life with kinky delight,
Ian
If you missed earlier episodes, you can check them out here, here and here.

Orpheus Black – Southwest M/s Titleholder 2016 & 2015 California's Leather Master/slave titleholder – is a published author and erotic educator, specializing in Esoteric SM, non-monogamous relationships, and erotic meditation. This two-time Bawdy Storytelling champion has been traveling the country teaching his fun and light-hearted educational events for more than two decades.
During this time, Orpheus has become one of California's most respected educators as well as a favorite interviewee and contributor, lending his expertise to shows such as "Playboy TV,s Undercover ", ", "Love, Sex, and Hip Hop", "The Sex Nerd Sandra Show on the Nerdist ","The Dr. Susan Block Show", and "The Inner Circle with Neil Strauss".
Orpheus is also a regular presenter at DomConLA and is the founder of Cirque de Sade—a high profile Dominants group whose mission is to advance the art of BDSM through a commitment to innovation, excellence, and active leadership in the D/s, Ms and fetish communities.
Contact Orpheus at:
     theorpheusblack@gmail.com
     IG: orpheus.black.12
     FB: theOrpheusBlack