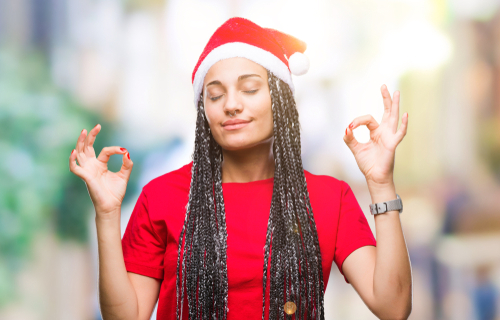 We just watched the chaos and candy of Halloween fly by us and you know what that means. That means we're already seeing Thanksgiving AND Christmas decorations up in the stores…the mental and emotional pressure of performing and providing is already in our faces.
Some people, those smart and organized ones, start early so they don't have so much pressure on them all at once and can manage their energy and stress levels differently.
But many more are stuck in rut of work and family and may have the best of intentions to start early, but will find themselves behind instead.
Yet, among the rituals of decorating, planning elaborate dinners, scoping out Black Friday deals (I'd just like to say, there are already stores offering Black Friday deals the day after Halloween!!), then decorating for Christmas before the turkey is finished cooking for Thanksgiving, sending cards, buying gifts, planning parties and feeling the pressure to do it all so well that no one forgets what you did…we die a little. We lose a bit of ourselves to the mad rush of society and expectations.
When are you supposed to have time to do all of this?
When are you supposed to FEEL like having sex and filling your own well of orgasmic potential?
Consider this your Erotic BluePrint™ Guide to keeping it lit when the pressure of the toughest time of the year is on, so that you can manage to keep your most vital energies burning bright… keeping your hormones more balanced, stress at bay, and giving you another reason to love this crazy season.
Before you read any of the following suggestions, there is one crazy alternative to all the holiday madness that can help you love your life…
Don't put pressure on yourself to do any of it.
Ask these questions:
"What experience am I wishing to have for myself and to create for others? Does all of this effort and stress achieve my desired result? If not, what can I do instead that will get me the outcome I desire?"
The answers to these questions may completely transform your holiday experience.
Even if that inquiry clears out some of the holiday overload, you may still need some Blueprint support to keep this festive season sexy.

For the Energetic
Make a pact with your partner (if you have one) or with yourself if you're solo, that each day you're going to tap into you. You're going to allow your energy a few moments to tap into the space around you or to isolate from that energy by putting yourself in your own safe bubble.
Boundaries are key for Energetic Types no matter the season.
Center your holiday schedule around YOU. This way you are reserving your energy levels for the most important person (You). And you're not at the beck and call of everyone else's needs.
Plan your excursions in short bursts so you're not depleting yourself with extended bouts of overstimulation. Shops, malls and driving on crowded roads can burn you out fast.
When you begin to feel drained, overwhelmed or frustrated, stop and take a break.
Schedule a few moments before bed or when returning home from the hussle and bustle where you spend time adjusting your energy back to your set point.
Take a peaceful talisman with you on your journeys: a crystal or a beaded braclet to create a meditative practice with.
And remember to breathe!!!
Your sense of energetic safety is key to your orgasmic well-being…these few tips, if adhered to will help immensely.
For the Kinky
You like to keep things a bit taboo to help keep you orgasmically lit, so:
If you're a submissive, perhaps it's time to have someone boss you into getting all the holiday errands done. Do it all well and get a reward. Be naughty and bratty about your chores and receive a punishment. Yum!
If you're a Dominant, it's time to get those slaves doing all the grunt work (with consent, of course)
When you're out and about, find discrete places for some sexy interplay, trying not to get caught.
Spank your lover or stick out your tush for a spanking in the checkout line.
When going out, add a bit of hidden wardrobe to the mix: dress in harnesses, peekaboo bras, and thongs
Wear your cockring out while you're running errands.
In short, see how you can use the dominant or submissive parts of you to help you make everything a sexy game
(Another fun game to play is to go to parties with remote control vibrator panties on and let your lover control your experience!)
For the Sexual
To help keep you balanced as a Sexual, and feeling like having sex whenever you want (and when don't you?), you're going to need to plan for sex…
Plan for quickies – yes, schedule your sex this holiday seasion. The Sexual Type gets off on certainty that you're going to get some. And sex helps you to relax. Make sure to plan quickies with your lover or time to self pleasure. Don't let it build up.
Connect with your partner (or your genitals!) when you are at the table, before bed, or in the movie theater (obviously be conscientious and respectful of your surroundings and don't do anything non-consensual)!
Send your lover sexy voice memos or naught texts. Do your best to communicate to them in their Blueprint (which may not be sexual) Hopefully, they'll return the favor.
Keeping yourself visually, physically, and auditorily stimulated can keep your juices flowing through what has, in the past, been your driest time of year!
For the Sensual
Sensuals, when life gets busy, it's easy for you to shut down. Because what's less sensual than a freaking to-do list that's packed with everyone else's expectations???
So, you're going to call in the sensuality that breathes life into you while you're trying to do it all.
The "doing" of getting everything done may be your biggest drain, so toggles from the busyness to relaxation are key.
Plan for down time: make sure you've made time for a bath or body rub at the end of the day, or even in the middle of the day
Create a sanctuary: decorate your bedroom with flowers, candles, and essential oils. Use your sanctuary space to help reset by stepping inside and closing the door for short or long chunks of time
Wear clothing that gives you that cuddly feeling. You can touch yourself all day long.
If you're going to be running around in your car all day, beautify your car with some flowers, essential oils or taking your car in for a detailing. Clean spaces can help you breathe easier.
While running errands, plan a pit stop in a place where you can fill your cup with sensual tastes and a moment of deep peace, away from the crowds
At the end of the day, you and your partner (you can easily do this solo, too!) can explore the things that made your day feel delicious.
Schedule getting and giving erotic massages once a week or more (If you're single, this can be giving yourself longer self-pleasure seasons of pure indulgence).
Managing your energy is key…and it's not as hard as we often make it.
For the Shapeshifters
As a shapeshifter, you have the greatest advantage and can play at your own whim!
Mix and match from all the lists above.
Are you feeling sexy? Let your fingers play through your days…taste your lover as often as possible. Let these moments invigorate you, re energize you, and give you the fuel you need to get it all done.
Feeling like you want to curl up next to a fire as you read a trashy novel, do it…tap in.
Want your lover to consume your flesh with their tongue? Ask for it. This time of year is busy, but your needs have to cum first.
Whatever you're feeling, create it. Let time for yourself fill you so your essence flows into everything you need to do this season.
The point of the holidays that gets missed in all the "have to's" is LOVE!
SEE!? It's likely that you're going to be busy these next couple of months…but there are endless opportunities to weave in our turn on, no matter the time of year.
And when we do, we are allowing ourselves to be more present for those we give presents to.
Give yourself love this holiday season!