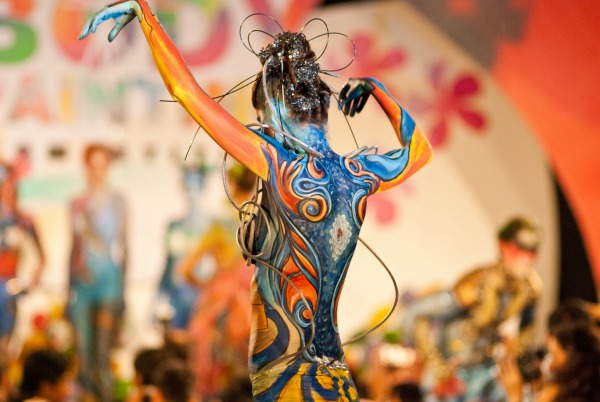 In the Northern Hemisphere, July is heating things up.
So we want to take this opportunity to help you make it HOTTER.
Now, even if you're in the Southern Hemisphere, where you are in the throes of winter, this post will help you warm it up!
Most of us are familiar with all the wacky "holidays" that end up on our calendar. Days like: National Hot Dog Day or National Take Your Potted Plant For A Walk Day (not kidding…it's a thing).
But there are a couple of these days in July that are just perfect for those of us who want to make sex more fun and exciting!
World Body Painting Day
Have you ever had your face painted? It wasn't just about the art and being expressive, but it was a chance to BE someone/something different.
Body Painting is face painting but on a whole other level.
In countries like Brazil, body painting transforms mere mortals into mythical creatures and powerful animals…carnal in nature.
Fun like this can be as simple or as detailed and complex as you like.
The point is – that it's FUN!
Suggestions for Use:
1. The official day for this was July 9th (bet we won't tell if you don't!). Hook up with your lover and take turns painting your bodies to be anything your hearts desire, then have fun destroying it. Have a solo playdate, if you're not currently sharing a romantic life with someone.
The feel of the brushes and paint on your skin just might be all the foreplay you need to get this July fire going!
2. Use edible body paint and realllllly clean up when you're (almost) done.
3. Use the body paints on yourself and have a BLAST just feeling into the caress of the bristles on your own flesh…feel into the silkiness of the paints as they glide on and dry to your body.
The only rule is that you feel tactically into the process and let your imagination run away with you!
PS: This is GREAT fun for people who identify as the Sensual Blueprint™ and even Energetic™…and for those who flow through Sensual in their Blueprint Stack™. (To learn more about your own Erotic Blueprint™, take the quiz here!)
International Nude Day
You would think this is self-explanatory…but…let's take a look at how International Nude Day can be more than just walking around without clothes on.
The Sexual Blueprints™ among us won't need much coaxing to get the most out of this holiday, but here's how everyone can really tap in:
1. Get Naked!
2. Try playing "Don't Touch" games where you and your partner(s) get as close as you can without actually physically touching each other and feel into the heat and the energy that flows in between you. And you can do this as you're carrying on about your day…in the nude! No need to set a time for a "date" or to go into a session, planning to play this game. It's the randomness that makes this game HOT.
3. Rub yourself or your lover(s) down with oil and pamper the skin you're in…who knows where that will lead!
4. Appreciate your body and your lover(s) body by taking a moment to run your fingers up and down the body. Make note of how their flesh plays off your fingertips, the curves, the softness, the hardness. Take moments to show deep gratitude for the beauty that is YOU!
The point of being nude is to honor the flesh that is yours… so do it however feels good to you! Heck! Spend ALL day nude, if you can!
So, two fun suggestions to love on your body, and your lover's body.
It's getting hot in here!