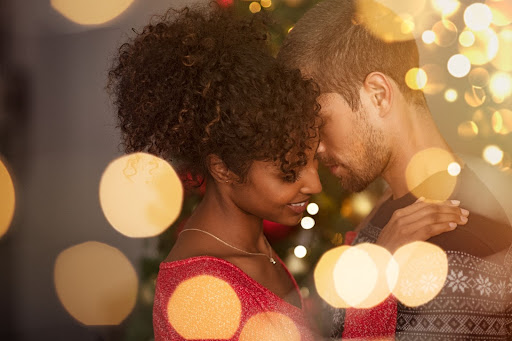 You might think the holidays are the least likely time to have great sex.
With relatives, shopping stresses, increased holiday rush workloads, and sometimes a plethora of social engagements, it's so easy to get disconnected from our own pleasure.
However, I invite you to reconsider that perhaps the holidays are the perfect time of year to have the hottest sex ever!
I have five main reasons why:
Darkness (at least in the northern hemisphere)
Temperature change (in many places around the globe)
Gift-giving opportunities
Intimate gratitude
And taboo 😉
Less Daylight:
Why is this important?
Darkness increases attraction, which increases arousal.
Did you ever wonder why candlelight dinners get you in the mood? Or why all the women in darkly lit strip clubs are so attractive and sexually charged?
Darkness causes our pupils to dilate, which is arousing to potential lovers because it is a sign of arousal, attraction, and sexual availability.
At one time, women would put the herb Belladonna in their eyes to dilate their pupils so that they would be more attractive.
Another fun fact: all the sphincters in the body are connected, so when one dilates so do the others.
Our mouths and our nether regions have sphincter muscles, which means when our pupils dilate we are more receptive and open sexually.
Who would have thought that more darkness equals more sexiness?
And what about temperature?
The chilly temperatures encourage snuggling and cuddling up in front of a romantic fireplace with a lovely mug of hot cocoa or a bottle of wine.
If your partner expresses that they are chilly, it's the perfect opportunity to warm them up with your own body heat!
And what a perfect excuse to stay over at a new lover's house or to linger in the warmth of your bed in the morning.
Mmmmmm!

Gift-giving as an aphrodisiac:
Certain gifts stimulate the production of a hormone called Oxytocin.
Oxytocin is part of having a great orgasm and it helps you to bond with your partner.
Here are some spicy holiday gifts that will keep your love life as hot as chestnuts roasting on an open fire!
Here are some hot, low to no-cost gift ideas!
Sensual Massage – get massage oil – coconut oil is great and easy to procure. Wrap it up with a tag that says "Good for One Erotic Massage".
If you don't know how to give an erotic massage you can get a book to go along with it – mine, Red Hot Touch, or download a video on the topic.
Add a little chocolate and you have a chemical recipe for love and sex since organic, dark (lower in sugar) or raw chocolate/cacao is not only an aphrodisiac and mood lifter, it's also great for your heart.
Hot Wax-Soy Massage Candles – Jimmy Jane makes a great one if you want to buy one, or you can easily make them at home.
The great thing about these is that you can pour the warm wax on your lover or even paint it on their skin.
Blindfold them, if they are up for it, and play with warm wax and paintbrushes!
What does your lover really want for the Holidays?
(Hint: It's not a sweater or a pair of slippers.)
For the "Sexual" – Give them a sexy striptease and role-play.
Don't be afraid to play a sexy Santa's helper… take a striptease or pole dancing class.
Unleash your inner erotic holiday creature.
How about learning how to really pleasure your lover?
Take some erotic education classes online. Learn how to:
Touch them
Kiss them
Dominate them (if they're turned on by surrender)
And don't think you're an expert already or that you have to be one already to play!
For most couples I work with, often one lover is not satisfied or they don't even know what's possible.
And once you learn some sexy new skills, present the information in a unique way:
Set up an erotic spa where they get to be pampered and pleasured like royalty
Roleplay as your lover's erotic rock star
Make it a surprise
Besides physical gifts, the holidays are also about expressing our gratitude for our lover(s), partners, or spouse.
One of the best Thanksgivings I ever had was when my partner and I decided to stay home all day long and make love. During the lovemaking, we started to whisper to each other what we were grateful for about our relationship and one another. "I'm grateful for your wonderful touch." "I'm grateful that you are touching my clitoris right now!"
This practice is another way to induce oxytocin and it brings a new meaning to whispering sweet nothings in each other's ear. It was some of the best sex I've ever had.
Finally, you can't leave out the taboo.
What would happen if you invited a little bit more taboo into your holiday?
How about sending each other a naughty text during a holiday party? Or what about sneaking off for a quickie during a shopping excursion?
How do you keep the spark of intimacy and passion alive, in and out of the bedroom, during a time of year when many couples are just too stressed and exhausted to maintain a physical and emotional connection?
It goes back to the taboo, you have to let it feed you during the holidays…
Surprises are important: Mystery and Obstacle equal "Hot Sex".
Having sex in the department store dressing room has mystery and obstacle written all over it.
Let your kisses linger: … showing we love someone is more of what the world needs.
Touch secret spots: small of the back, nape of the neck, shoulder rubs, ear lobes; knowing what's welcome and turns your lover on, touch these areas on your lover's body during your next social gathering.
Scheduling your intimacy time: (I call this a Season's Meeting) It's okay to schedule it when your schedule gets crazy. If you don't schedule it, it might be well past the new year before you've had an erotic interlude with your lover.
Scheduling it is a great rule year round!! Prioritize pleasure or it may not happen.
This Holiday season, I invite you to try it all.
Play in the darkness, with the sparkle of holiday lights twinkling in your eyes.
Let the cold outside be an inspiration for generating a little or a lot of body heat together.
Give gifts that inspire sensuality and togetherness.
Play with being grateful and acknowledging what you love about your sexual relationship.
And finally, let the taboo feed your passion. Happy Holidays, may they be filled with a whole lot of merry lovemaking and happy hot sex!
With sexy holiday wishes for you,
Jaiya