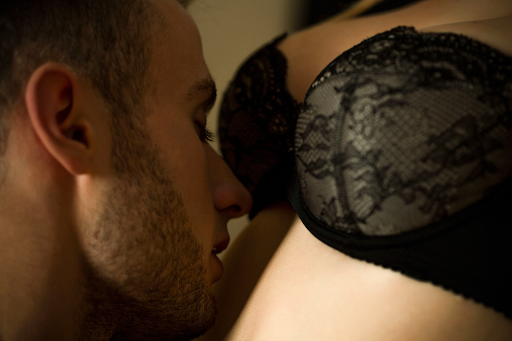 What would it be like to be absolutely in love with every part of your body? Can you even imagine it?
When it comes to breasts, like any body part, we're fed one single idea of what beautiful breasts look like. There are two options as the idea only varies based on the gender binary. Cisgender women's breasts are "supposed" to be perky and round. Pleasure for this body part tends to be talked about from the perspective of the viewer rather than the breast-owner herself. In common speech, cisgender men are encouraged to have muscular pecs because to even insinuate that they have breasts is considered insulting because insinuating softness in them- in any form- is highly discouraged. These viewpoints not only contribute to the invisibility of non-binary humans but also leaves so many people striving for perfection because at some level that's what they believe will bring them more pleasure in their bodies and in life as a whole.
This couldn't be further from the truth. The more we're caught up in the judgment of what our bodies "should" look like, the less likely we are able to be present with what is actually occurring in our bodies and be in love with what is. It's precisely this variance that makes our bodies beautiful.
Think about it. If every body looked exactly the same and experienced pleasure in exactly the same way, it would be a little bit like eating vanilla ice cream for every single meal every day for the rest of our lives. Our differences and deviations from some fictitious ideal means we get to experience strawberry, cookies and cream, and even coffee pecan brownie with jimmies if that's what we so desire! The point is that our bodies are hardwired for pleasure and every cell that makes up our composition gets to be its very own pleasure receptor… no matter what it looks like to the naked eye!
Have you ever taken the time to give love to and express gratitude for your breasts? Have you ever taken this space for yourself? To love our breasts, our bodies, ourselves as we are is a great act of rebellion. However, we can't teach the people before us and after us to break free from our cultural influence if we don't embody those teachings.
Below is an excerpt from Erotic Blueprint™ Lead Trainer Angela Thurston's personal essay "Divine Breasts." Consider this an invitation for yourself to reconnect with your breasts!
"Your breasts are sacred temples.
Take a moment right now to cup your sacred temples… pause
Direct your breath into your breasts… pause
Imagine your breast tissue surrender into your hands… pause
Whisper gratitudes to your sacred temples… pause
Observe the emotions, feelings and sensations that you're experiencing in your body, in this moment? (you can also explore a form of creative expression, in relation to your observations and responses, through writing, moving, dancing, drawing or painting)
Our breasts, our bells of love, our love centres, sit on either side of our heart chakra – holding the energies of love and joy – representing an external expression of our heart energy. When we have a nurturing relationship, and a sacred communion, with our breasts, it changes how we penetrate the world around us, as well as how we cultivate our ability to nourish our dreams and visions."
When you consider the sacredness of your breasts, what would it be like to give yourself a breast massage simply for the pleasure of it? What if you spent time finding the most pleasurable spots and types of touch on every part of your breasts? (Don't neglect the often overlooked spots like just below the nipple!)
Let your touch be your guide into the deepest love for your sacred temples.

Are you ready to fall in love with your body again and experience all of the pleasure available to you just waiting for you to rediscover it? Register for the Erotic Blueprint Breakthrough™ Course today! The course itself drips with pleasure, as it's the pleasure-based sex education you never received. With over 70 video trainings, twice monthly Pleasure Mastery calls where you get to receive live coaching from one of our highly trained Erotic Blueprint coaches and several bonuses to further your learning, it also happens to be one of the most comprehensive courses out there.
For a limited time only, you'll also receive lifetime access to the Erotic Freedom Club- a community of humans just like yourself who are doing this work with you. It's a safe place to get your questions answered and receive support. With your one-time purchase of this course, you'll receive access to this space for life!
Don't go one more moment feeling less than in love with your body. Open yourself to pleasure and get the Erotic Blueprint Breakthrough course today!