DISCLAIMER: The following coaches are certified Erotic Blueprint™ coaches. Individual coaches may have other licenses or certifications in various therapeutic modalities. Jaiya, Inc does not verify the authenticity of any other licensure or certification for the coaches listed below. Please contact a coach directly to find out more information about other licenses or certifications.
The basis of our coaching work is based on consent and boundaries. It is imperative that you respect the BP coach when reaching out to them for consultation. BP coaching is not for you if you cannot respect boundaries.
FOR COACHES: If you'd like to update your directory listing, please login here, and then navigate to your individual listing, where you will see a link at the bottom of your listing to edit your directory listing.
DIRECTORY OF COACHES
Sarah de Vries
Netherlands/Worldwide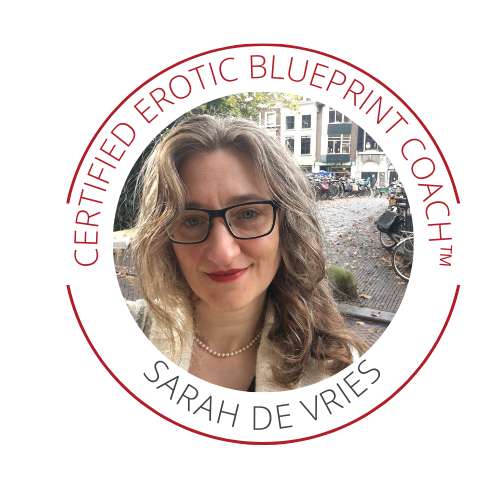 Bio
I'm a Dutch/Belgian Coach supporting digital nomads, expats all over the world and other open-minded, unconventional, creative and/or internationally oriented people.
As a certified Erotic Blueprint™ Coach, I guide you back to your authentic passion and pleasure and each other, and support you in the process of renewing and deepening intimacy and passion and expanding your ecstatic, creative, adventurous experiences.
Our culture often teaches us not to value pleasure. But without it, we only feel half alive and our relationships can become strained.
The Erotic Blueprints™ are like the Rosetta stone of eroticism. Knowing your Blueprint will connect you to your own authentic pleasure and allow you to connect with your partners in their Blueprint in new ways so you can share all the pleasure, passion, fun and authentic, loving connection.
Who specifically do you like to help/serve?
I work with singles and couples and with people in ethically non-monogamous relationships. I am kink-friendly, poly-friendly and trauma-informed. I'm fluent in Dutch and English.
My clients tell me I'm a non-judgmental listener and truth-talking, compassionate coach. They also tell me they often get results that exceed what they thought was possible. I love when someone's sense of what they thought was possible is expanded! I also love supporting people through the hard stuff, making it less scary by breaking it down into manageable steps, and holding non-judgmental space for whatever arises.
If this is something you are interested in, email me at letsconnect@SarahdeVries.nl for a complimentary 20 minute conversation to see if we would be a good fit to work together. (Don't forget to greenlist the address, as soon as you hit send!) I look forward to connecting with you.
Specialties
Kink, BDSM, D/s, Power Exchange, Non-Traditional Relationships, Monogamy, Non-Monogamy, Bisexual, Pansexual, Integration, Emotional Blocks, Emotional Resolution, Trauma-Aware Coaching, Trauma-Informed Coaching, EFT, Accelerated Evolution, Tapping, Transformation.
Email
Email hidden; Javascript is required.