DISCLAIMER: The following coaches are certified Erotic Blueprint™ coaches. Individual coaches may have other licenses or certifications in various therapeutic modalities. Jaiya, Inc does not verify the authenticity of any other licensure or certification for the coaches listed below. Please contact a coach directly to find out more information about other licenses or certifications.
The basis of our coaching work is based on consent and boundaries. It is imperative that you respect the BP coach when reaching out to them for consultation. BP coaching is not for you if you cannot respect boundaries.
FOR COACHES: If you'd like to update your directory listing, please login here, and then navigate to your individual listing, where you will see a link at the bottom of your listing to edit your directory listing.
DIRECTORY OF COACHES
Julia Big Joy
Los Angeles, CA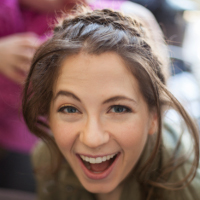 Bio
Kinky Fairy Godmother | Sex Coach | Sexological Bodyworker
I help hesitant kinky-ish people celebrate their desires, feel more in their bodies, get great at knowing their yesses and noes, and develop confidence communicating about their desires, so they can unleash their sexual creativity and meet their needs for sexual connection with self and others. 
My own Erotic Blueprint is Kinky Shapeshifter, and my pronouns are she/they. We all contain multitudes — outside of coaching, I used to study mime, I love complex teamwork, and my undergrad degree is in Astronomy and Astrophysics. If we work together, I'll look forward to getting to know all the parts that form your gloriously unique self.
LGBTQIA+ friendly. Polyamory-friendly. I'm aware of white supremacy's impact and I value BIPOC folks' experiences and needs. Neurodiversity-friendly.
Who specifically do you like to help/serve?
I love working with maybe-kinky or cautiously kinky folks who don't feel resolved about their desires (eg, perhaps you feel guilty or scared of hurting someone). Perhaps you're working through trauma with a trauma therapist and are seeking additional sexuality support. I especially resonate with cerebral, quirky, and self-aware clients who have transgressive or unusual desires (eg, consensual non-consent, age play, sneezing fetish, etc, on top of the full range of eroticism). 
We might be a great fit if you resonate with some of the following:
- You thrive with encouragement, clarity, gentleness and playfulness
- You'd benefit from experiential or hands-on work
- You've got trauma and you've processed it or are currently working with a trauma expert
We're not a great fit if:
- You need a confrontational coach who will whip you into shape
- You have unprocessed trauma that will impede our work and you are NOT also working with a trauma expert
At the end of the day, my job is to support you in orienting to your own wisdom, power, love, and joy. Trainings and certifications that help me do this:
- Certified Erotic Blueprint™ Coach (somatic sexuality)
- Certified Sexological Bodyworker, studied under Joseph Kramer, Deej Juventin, Uma Furman, The Institute of Somatic Sexology (somatic sexuality, consent)
- Certified Accelerated Evolution™ Coach (processes for finding your own wisdom)
- Kink training with Orpheus Black (kink, communication, consent)
- ForteFemme Women's Dominance Intensive with Midori (kink, communication, consent, finding your inner wisdom)
- Trauma Resiliency Model Level I and II trainings (somatic trauma modality)
- NeuroAffective Touch trainings with Aline LaPierre (somatic trauma modality)
- Betty Martin's Wheel of Consent training, Like a Pro, with Marcia Baczynski (consent, communication, kink, somatic sexuality)
Specialties
Twice exceptional clients | Designing a custom plan that works for you | Trauma-informed coach | Self-compassion | Teamwork & leadership | Consent | Communication | Negotiation | Psychological kink | Out-there desires | Consensual non-consent | Witnessing | Masturbation Coaching
Email
Email hidden; Javascript is required.